In a previous article we took a look at a brand new model in the Cobra iRadar system to be released in May of this year, the iRadar Atom. There is, however, another iteration of iRadar coming right on its heels, one that places the iRadar system in a different category of radar detectors altogether. It's the iRadar S-Series, and it adds another dimension to the product line. Let's take a quick look at it now.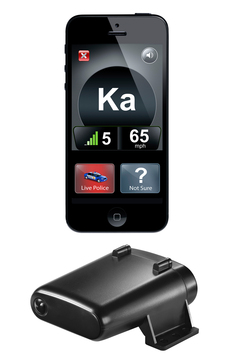 The iRadar S200R
The iRadar S-Series takes the entire iRadar detection concept to the next level - concealed radar detectors. The S-Series (S meaning "Stealth"?) is the first concealed series of detectors utilizing the Cobra iRadar detection system. The first model in the series, the iRadar S200R, is designed to install directly into your vehicle, under the hood, sight unseen.
Of course, that by itself is nothing new; companies such as Beltronics, Escort and Whistler have been manufacturing internally wired, concealed radar detectors for years. Detection systems such as the Beltronics RX45, the Escort 9500ci and the Whistler Pro 3600 are all well known examples. There's nothing innovative there. Or is there?
There is. Indeed, there is one thing that sets the new S-Series apart from the rest of them. The iRadar S200R is the first under-the-hood, concealed radar detector to use Bluetooth® technology to connect directly with your smartphone and access an Internet database to exchange information with a million other radar detectors on the road.
Okay, let's rewind a bit. iRadar? What is it? In a nutshell, it's a web-based network that shares updates and real-time information on known speed traps, red light cameras, speed cameras and other traffic alerts in your area with every driver and radar detector actively connected to it. It sounds a lot like the Escort Live! system, and it is. For details, read our article on the new iRadar Atom.
Now back to the program. According to Cobra, the new iRadar S200R becomes completely invisible when it's installed under the hood of a vehicle. Now, to me, invisible means that it can't be seen with the naked eye, and if it is installed under the hood of a vehicle, more than likely it won't be visible, literally. However, it doesn't necessarily mean the S200R is undetectable, especially if someone is specifically trying to sense it with a radar detector detector. In fact, Cobra doesn't say that it uses any actual stealth technology at all to avoid detection, it only claims that you can't see it when installed. In other words, don't expect it to be an STi Magnum, because it isn't one. It's just hiding itself from an ocular view.
With that in mind, it still sounds like a cool device. A concealed radar detector that connects wirelessly to your iPhone or Android smartphone, interfaces with an app and networks in real-time with a million other radar detectors on the road does take radar detection technology up a notch. Whether it lives up to the classic Cobra hype, time will tell. But it does sound cool and it's worth checking out when it arrives, which is supposed to be sometime in August, 2013. Manufacturer suggested retail price: $299.95.
Subscribe to this blog for the arrival of the new Cobra iRadar S200R at Buy Radar Detectors!