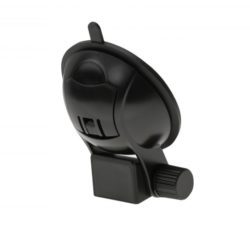 Radar detector suction cup windshield mounts come in various shapes and sizes. Some are designed for specific models, others for a specific series of models or an entire brand. One can even find a universal radar detector windshield mount. No matter the mount, all perform the same basic function: they attach a radar detector to the windshield of a vehicle using the power of suction.
The basic technology behind the suction method was always relatively simple, and while somewhat reliable when properly applied, it wasn't perfect. Then Escort introduced the Stickycup Mount, a heavy duty mount with a suction cup coated with a sticky gel. This was a game changer. Suddenly, the reliability of suction cup mounts rose dramatically. Radar detectors equipped with a Stickycup Mount stayed put, and fear of a detector suddenly falling on the dash diminished greatly. While still not completely hassle free, the Sticky Cup was definitely a step forward. For a fair comparison of the pros and cons, read Escort Sticky Cup vs. the standard windshield bracket.
Now, Escort is taking the "sticky cup" concept to the next level, adding an instant, quick connect-and-release option for the radar detector itself. The result? It's the Escort EZ Mag Mount™.
Designed exclusively for three specific Escort radar detectors, The EZ Mag Mount is essentially a Stickycup mount, but with an added twist. A traditional mount attaches to the radar detector using a metal tongue or bracket that slides onto or into the device and locks it into place; a button on the detector must be pressed to release it from the mount. The EZ Mag Mount has a "stubby like" bracket equipped with a magnet. The detector slides onto the bracket and the magnet holds it in place. Since the magnet creates the grip, release is instantaneous. To remove the detector, simply pull it off the mount!
The EZ Mag Mount is a quick and easy way to mount your detector, and it works very well. The suction cup is easy to attach and is quite powerful, yet is surprisingly easy to remove from your windshield if necessary. Traditional metal bracket mounts required the user to bend the bracket to adjust the angle of the detector while on the mount. The EZ Mag Mount uses an adjustable tilt mechanism with a locking knob, allowing faster and easier angle adjustment with great flexibility.
The unique magnet mount design currently limits compatibility to three Escort radar detectors, the MAX 360C, the Escort IX and the Redline EX. If you own one of these models, the EZ Mag Mount may be the windshield mount for you.