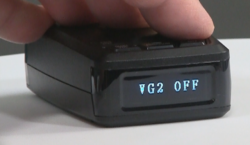 Radar detectors are designed to hear and identify frequencies emitted from police radar guns. They also emit frequencies of their own, and can be detected by radar detector detectors (RDD). All radar detectors emit "stray" RF signals, but some are built with shielding to reduce or practically eliminate leakage. These are the radar detectors you want to use if detectability is a concern. The question is, which radar detectors are undetectable by police radar detector detectors?
It's a valid question, because it can be a little confusing. There are different RDD devices in use with varying degrees of sensitivity. One type of RDD is VG-2. It is no longer widely used and can be defeated somewhat easily by many of the detectors available today. Another type of RDD is Spectre. The latest version, known as Spectre Elite, is rather effective at detecting radar detectors, and from a relatively short distance away.
There are a number of radar detectors available on the market with various levels of undetectability. Some are undetectable from VG-2, Spectre, or both within a reasonable distance. A few are considered stealth, which means they are almost completely undetectable, depending on the position of the detector and the police RDD around it. A very few are considered fully stealth, meaning the detector is undetectable at almost any distance from any position or direction at all.
The chart below lists radar detectors currently available from Buy Radar Detectors in 2019 for use in situations where RDD undetectability or stealth is desired.