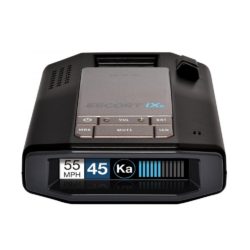 When Escort first introduced the iX radar detector, it was an update of its classic, top-of-the-line Passport 9500iX. The iX added more power, some new features and a fresh, new body to match. Escort has now replaced this model with the iXc, improving on the iX with better range, more precise filtering, and automatic in-vehicle updates. It also introduces a new feature that completely sets it apart from its predecessor. The Escort iXc radar detector is an iX with built-in WiFi.
The Escort iXc has all the features of the iX, including Digital Signal Processing (DSP), GPS functionality, Bluetooth® connectivity, AutoLearn, the multi-color OLED display, and, well, the whole package. To reiterate, it is an iX in nearly all respects, so going over its entire feature set would be redundant, to say the least. So, lets cut to the chase and talk about what's new and different with the iXc.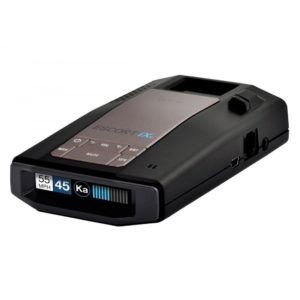 WiFi
The key difference between the Escort iX and iXc is the addition of WiFi. It's built right into the unit. This enables the iXc to connect directly to the WiFi of a Connected Car for automatic updates and crowd sourced alerts via the Escort Defender Database in real time. If you have a Connected Car, this is a big feature, as it allows the iXc to fully integrate with the internet communications and network system of your vehicle without a wired installation.
Of course, if you don't have a Connected Car, you can still take advantage of all the other powerful features in the iX by connecting it directly to your Android or iOS smartphone via Bluetooth®. This will allow you to interface with the Escort Live App on your phone for real time access to location based traffic and speed enforcement alerts. The iXc is also equipped with a USB port so you can manually update the unit as needed.
Improved IVT Filtering
In-Vehicle Technology (IVT) filtering is a feature included with higher end Escort Radar Detectors that filters out false alerts created by unwanted RF signals emitted from surrounding vehicles equipped with driver assist technologies such as adaptive cruise control, lane keep assist and collision avoidance systems. While not a new feature, Escort tweaked their IVT filtering for the IXc to improve and expand its filtering capabilities to Blind Spot Monitoring (BSM) systems.
Greater Band Segmentation
The iX featured Ka band segmentation. The iXc adds band segmentation on K band and has more incremental adjustments on the Ka band. This greater band segmentation allows for better filtering and greater accuracy in the detection of police radar.
These upgrades give the Escort iXc a status of its own in the iX series, and certainly earns its branding as an Escort Radar Detector. It's somewhat on par with the MAX 360C, which is also equipped with Wifi, but considerably lower priced, coming in at $449.95. That is certainly something to consider. If you have a Connected Car, or even if you don't, the Escort iXc is a radar detector worth consideration for drivers on the modern, technology driven road.