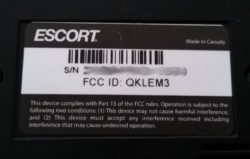 A radar detector operates on radio frequencies, and like every radio frequency device, is regulated by the Federal Communications Commission (FCC). Radar detectors fall under Part 15 subpart B in Title 47 of the Federal Code of Regulations. All radar detectors require FCC certification for legal use in the United States.
This chart lists popular makes and models of radar detectors and their FCC ID numbers.
For more information or details on your particular make and model of radar detector, visit the FCC ID Search page and enter the FCC ID into the form.
If your radar detector is not listed, leave a comment below to add it to the list. If you're shopping for a radar/laser detector and need assistance, contact us and we'll be happy to help!