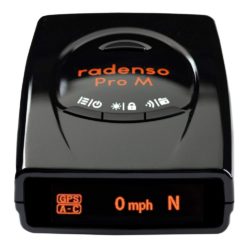 Since the founding of the company in 2002, Buy Radar Detectors has led the way in providing quality radar detectors, accessories and service for the discerning driver at competitive prices. We constantly strive to offer quality products and services to our customers. We don't just offer everything on the web. We are particular about who we partner with and what we sell, and that's why we are excited to announce that we are now an authorized Radenso dealer!
Radenso is quickly gaining a reputation as a respected manufacturer of high performance, quiet, and low priced radar and laser detectors with impressive range and top notch filtering. Radenso radar detectors meet or exceed the performance of other models in their class, and at a much lower price point! In fact, Radenso is so confident in their products, they offer free updates for the life of the product, plus a one year, ticket free guarantee!
Three windshield mount radar detectors are now available, as well as a full complement of Radenso accessories for them. These models include the SP, XP and Pro M.
Radenso SP
Like other detectors in its class, the Radenso SP detects X, and K, band, narrow and Ka wide band signals and police laser threats. It has a city and highway mode and can filter out traffic sensors and blind spot monitor systems from other vehicles in range. In addition to filtering, the SP is also virtually invisible to VG-2 and Spectre radar detector detectors. This is a feature not usually offered on a lower tier detector and gives the SP a step up over a lot of its competition.
The Radenso SP features an orange-red OLED display that is easy to read, multiple threat display, dim settings, voice alerts, volume up and down buttons, a mute option, voltage display, and test mode. It has a USB port to update the firmware and these updates are free for life. How many other budget friendly radar detectors do that? Not many. Our Price: $199.00.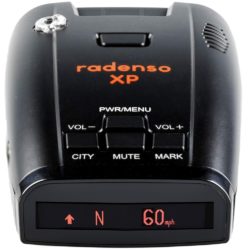 Radenso XP
The Radenso XP has all the same detection as the SP, and more. It has the ability to filter out traffic sensors, blind spot monitor systems and collision avoidance systems, adds another City mode called CityAuto, and throws in GPS capability, including GPS lockouts for stationary false alerts. Like the SP, it also has VG-2 and Spectre invisibility. According to Radenso, it us considered one of the quietest radar detectors.
The Radenso XP has an orange-red OLED display with 3-Digit Frequency Display and 6 display modes. It has voice alerts with 260 different messages, Low Speed GPS auto-muting, red light and speed camera alerts, and 3-Digit Frequency Display. Other features include Fully directional RLC/Speed Camera database With Free Updates, auto mute, volume up and down buttons, voltage display, test mode, and free updates for the life of the unit. Our Price: $349.00.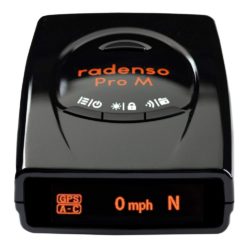 Radenso Pro M
The Radenso Pro M is the top of the line, and it has the bells and whistles to prove it. It has all of the radar and laser detection of the other two models, plus MRCD, MRCT and Gatso radar bands. It has all of the filtering too, and is also invisible to VG-2 and Spectre Elite radar detector detectors. And, yes, there's more.
In addition to GPS capability and many of the other standard features found on the XP, The Pro M has an amber colored OLED display with 7 selectable display modes. It also features voice alerts with Frequency Announcement. The firmware and pre-loaded red light/speed camera database include free lifetime updates. These are features one may expect from on a radar detector priced at $600 or more, but the Pro M undercuts them all. Our Price: $449.00.
All three models comes with windshield suction cup mount, 12-volt DC power cord, mini-USB to USB date cable, carrying case, owner's manual. Any questions? leave us a comment below, enter our online chat or give us a call.