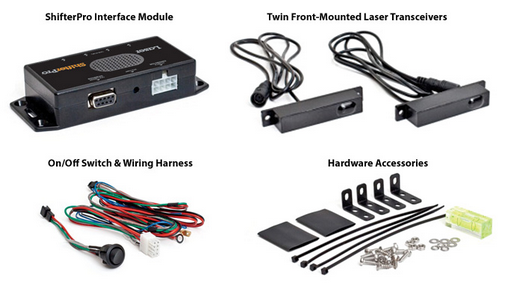 The Cincinnati Microwave ZR4 is highly regarded as the laser defense system of choice among users of radar and laser detectors. It's small, installs in a vehicle discreetly and detects and blocks police laser guns quite effectively. Manufactured by Escort, the ZR4 integrates with all current models of Beltronics and Escort radar detectors, including the Escort 8500 X50, 9500ix and the Beltronics STi Magnum.
But not anymore The ZR4 has been discontinued. It is being replaced by a new and improved laser jammer, the Cincinnati Microwave Laser ShifterPro.
Like its predecessor, the Laser ShifterPro is an active solution to police laser guns. It actually blocks the laser, preventing the laser gun from calculating your speed. As laser guns can perform a speed check in about a quarter of a second, such blocking can buy valuable time to react to a laser alert.
Like the ZR4, the ShifterPro hides discreetly in your vehicle. The interface control module, (now called the Bridge Box) installs out of site, and the power on/off LED can be integrated into your dash or where ever you need it. Two front laser receivers install in the front of your vehicle to protect you from incoming threats.
Yet, while there are similarities, there are also differences. The ZR4 came equipped with both front and rear laser shifters, however the new Laser ShifterPro has only the two front receivers. The rear shifter is not included in the package, but can be purchased as an option. In addition, the ZR4 integrated directly with the Beltronics and Escort radar detectors. The ShifterPro is a stand-alone device and does not actively engage or interact with your existing radar detector. Also, unlike the older model, the new ShifterPro is software upgradable. Escort's ShifterPro software allows the Laser ShifterPro to stay up-to-date against the latest laser threats on the road.
Escort bills the Laser ShifterPro as "the most advanced laser defense system available". Although the new shifter does not integrate with radar detectors as the ZR4 did, the ability to operate independently allows the ShifterPro to be used side by side with almost any radar detector. The fact that it is also upgradable makes it more powerful, versatile and perhaps even smarter than the ZR4. As laser defense systems go, that's advanced.