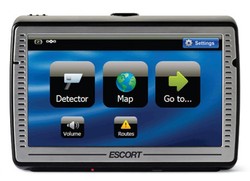 There are numerous devices on the market today that are designed to detect various types and methods of traffic enforcement. Some detect radar signals, others detect laser beams, still others track locations of red light cameras and speed cameras, and a few of them detect a combination these. Some detectors even have GPS capabilities, expanding the scope of the detector as a multi-functional device.
But no matter what features they offer on the inside, from the outside they are all universally recognizable from inside and outside a vehicle as a specific type of device - a detector. No matter how you install or mount it, no matter where you hide it, a radar detector still looks, acts and feels like, well, like a radar detector.
Until now.
Recently, Escort introduced the PASSPORT iQ.™ Yes, it's a radar detector, and Escort takes it to the max, integrating the latest radar/laser detection, speed camera and speed limit information and 3D GPS navigation technology and rolling it all up into one compact device that mounts on your windshield. But it doesn't look like one.
It looks and feels like a GPS.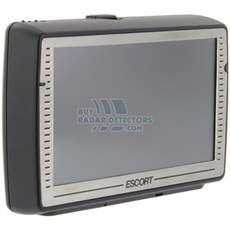 The Passport iQ is reminiscent of your typical TomTom or other GPS navigator, complete with a 5" touch-sensitive LCD display for access to all of its radar/laser/red light camera detection/GPS navigation features. It's a bit larger than a typical GPS unit and about twice as thick, which is understandable given what is inside the shell. In fact, it's an all-inclusive, all-in-one unit, with the radar and laser detection lenses built in so discreetly you may not recognize what they are at first glance.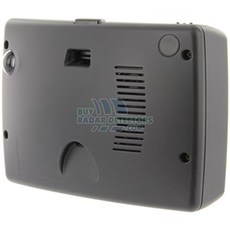 Given that, it's actually kind of amazing it is that small. Unless you're looking at it up close, it is difficult to tell it's a radar detector. From inside and outside the vehicle, and at just about any angle, one would think it was a GPS device. And it is, yet it's more.
Once you actually turn on the Passport iQ and begin to study the screen, you will begin to notice that it isn't your typical GPS device. Sure, it has GPS capability and can help you find The Way to San Jose, or anywhere else in the country. But that's only the beginning.
The PASSPORT iQ monitors all radar bands, including X, K, Superwide Ka, Ku, and instant-on POP modes with long range warning. Built-in front and rear laser sensors on the Passport IQ offer wide view 360-degree laser protection.
If all these features aren't enough, there are more. Escort added a Micro SD Card slot, a standard 3.5mm audio jack, and a USB port to connect the unit to your computer, making the Passport iQ easy to update. It even has a reset button to clear the device from a lockup if necessary.
All of these features sound great on paper, but does the Passport iQ really deliver them according to expectation? To find out, I set one up and put it to the test.
First, I mounted it in my car. Escort calls their windshield mount an "Easy Mount bracket", and it was. It stuck instantly to windshield the moment it was in contact with the glass and did not let go, even before I engaged the locking clamp. The Passport iQ slid onto the bracket and locked into place easily. I plugged in the power cord, and that was it. All the features and sensors are discreetly embedded into one single device, so there was nothing else to install. The entire installation took less than thirty seconds.
The first time the Passport iQ was turned on it took about thirty seconds to boot to the initial setup screen. I was prompted to choose my preferred language and one of three voices for prompts and alerts. Once those settings were chosen and saved, it presented me with a safety warning.
The touch screen did not seem very touchy at first. It required more of a tap. It took a few taps to get used to it, but within a few moments I was moving from screen to screen with relative ease.
Once the initial configuration was complete, the Passport iQ went to the main menu, which consists of three primary options: Detector takes you to the radar detector mode, Map goes to the GPS display and Goto... provides options for GPS navigation, such as address entry, recent destinations and favorite locations.
The user interface itself is interesting. The button graphics and interactive icons are generally distinct, self-explanatory and easy to understand. The screens are simple, uncluttered and easy to navigate. This is especially important while on the road, as this simple layout allows you to keep up with the display on a given screen with a quick glance. Escort clearly designed the screens with this in mind.
Escort touts the ability to select multiple screen options. This is true. However, this ability is limited to use of the screen in Detector Mode only. You can choose from two different styles, Classic and Digital, each in two different layouts. There are also options to choose between three colors: red, blue and yellow. The color changes are rather subtle. The only items I could tell that actually changed color were the speedometer readout and portions of the background. Everything else, including buttons and other graphics, stayed the same.
You also can change the wallpaper on the main menu. There are eight different backgrounds to choose from, some of them quite scenic. Between the Detector Mode screen options and the wallpaper, I could make customization of the iQ somewhat more personal than the average radar detector, which is a plus.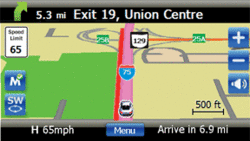 Operation of the iQ GPS is not much different from a typical GPS device such as a Garmin or TomTom. If you are already familiar with such devices , the procedure for entering an address and calculating the quickest or shortest route to get there is about the same on the Escort.
Most of the other standard GPS features are included in the iQ as well, such as stored favorites, recent destinations, the ability to browse for restaurants, ATMs, airports and other points of interest and other popular bells and whistles.
However, unlike a dedicated GPS such as a TomTom, the GPS capabilities of the iQ seem a bit rough around the edges. The 3D graphic maps were okay, but did not look quite as polished as my dedicated GPS. During the test drive on a clear day without a cloud in site, the response on the GPS side seemed somewhat sluggish. It also seemed to have some trouble finding and staying locked on GPS signals in some areas, although that could have been due to interference and other factors within the area in which I was driving.
Still, the NAVTEQ powered 3D maps are easy to read and the clear, voice guided directions with lane assist help keep you on route without having to constantly refer to the screen. In addition, the current location and route, safety cameras and speed traps can all be marked and tracked on the map and managed for future reference. Polished or not, the Passport iQ GPS is quite functional.
Where Escort shines is in their specialty: radar and laser detection. The Passport iQ is no exception. Escort's feature packed, award-winning all-band radar detection is all there, on display and instantly accessible. It has the technology and performance of the highly rated Escort 9500ix, just stuffed in a different package. For all intents and purposes, it is a 9500ix, only instead of an LED readout, it has a full graphic user interface. It is also quite configurable.
With Detector View I could track up to four different radar signals on multiple screens. I could also mark locations of safety cameras and speed traps and manage alerts along commonly traveled routes. The Passport iQ also uses Escort's Defender Database to provide both audible and visual alerts for red light cameras, speed cameras and known speed traps throughout North America with pre-loaded data.
The Detector Settings allowed me to adjust sensitivity, enable or disable detection of specific bands, change alert tones, set cruise alerts and enable or disable alerts when entering states where radar detectors are illegal. You can even turn radar detection off in the Sensitivity Settings when driving in such a state (cough cough - Virginia - cough cough).
Then there is the Meter Setting. Change this setting from the Standard Bar Graph to SpecDisplay and the Passport iQ displays the numeric frequencies of detected radar and laser signals onscreen. If you like to get techie with detectors, this is very cool.
As a top-of-the-line radar detector, the Passport iQ worked as expected. Overall it performed very well in my tests, accurately detecting radar signals from all directions.
To turn off the iQ, there are a couple options. Sliding the power button to the right puts the Passport iQ in suspend mode for approximately two hours, so subsequent startups within that time are nearly instantaneous. Holding the power button for two seconds shuts the iQ down completely.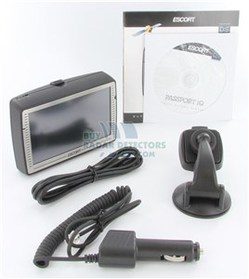 As far as the total package, Escort didn't leave anything out of the Passport iQ. The complete package includes everything you need to set it up and go: the 5" GPS/radar/laser detection device, a SmartCord, USB cable, mounting bracket, owner's manual on CD, and a Quick Reference Guide. Escort even throws in a 90 day trial of Defender® Database to get you started.
The concept of combining GPS with radar detection and disguising it as a GPS navigator may not be new, but the fact that someone actually did it is novel, indeed. Best of all, it actually works. Minor points about the GPS aside, it's a good combination, and I would trade up a Beltronics RX65 and TomTom for one that does the work of both without hesitation.
Escort calls the Passport iQ the "Ultimate Driving Companion." While I think that claim is a bit presumptuous (my wife claims that title but I'm not going there), the iQ does offer enough bang for the buck to be considered, in my opinion, a fairly close second.