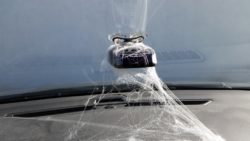 Recently we came across an article on autotrader.com written by Doug DeMuro called Radar Detectors are Useless Now. The article claimed that the recent developments in driver assist technologies are generating so many false alerts that traditional radar detectors are now rendered useless.
In addition to the false positives, DeMuro also concluded that radar detectors are becoming more expensive and are "being beaten at their own game" by cheap and readily available mobile apps such as Waze, an online app that allows millions of other users to report speed traps, traffic incidents and road hazards and share the information in real time across the web.
According to his article, DeMuro arrived at this conclusion during a cross country road trip, during which he encountered numerous false alerts from surrounding vehicles equipped with driver assist and collision avoidance technologies such as adaptive cruise control, lane keep assist, parking sensors and the like. With confidence in his detector quickly eroding, He began to rely on his Waze app to navigate the roads and reach his destinations. Based on these experiences encountered on his cross country excursion, DeMuro was finally convinced that the overwhelming combination of modern vehicles equipped with radar based technology, coupled with smart mobile apps powered by commmunity based alerts in real time, now renders the traditional radar detector obsolete, and, therefore, completely useless to the modern driver.
But is this true? Are radar detectors useless in 2018?
At first glance, DeMuro certainly does have a valid point. Technology has advanced significantly in the last decade, and there are many vehicles on the road today that utilize radar bands and frequencies capable of triggering false alerts on a radar detector not originally designed to anticipate these signals, thereby confusing both the detector and the driver.
But there's another side to the story.
Fortunately, and perhaps unknown DeMuro, radar detection technology has also advanced. Sure, there are a lot more radar based signals out there now, and the classic detector is increasingly challenged to discern the difference between real traffic enforcement radar, and something else. But while this is true of much older detectors, and even more so those with few filtering features or no filtering at all, the latest detectors are designed and built with these new radar enabled technologies specifically in mind. Most of the newer radar detectors available today are smart countermeasure devices and are programmed to seek out, isolate and eliminate these false signals from the mix.
Which detector was DeMuro using? We don't know, because he didn't tell us. Of course, there is the photo that accompanies the article. It is an image of a radar detector mounted on the windshield of a vehicle. The detector in the photo is an Escort Passport 8500 X50, an older, long discontinued model that was manufactured before driver assist technologies were added to the mainstream. The 8500 was a very sensitive device, yet was also equipped with advanced filtering capabilities to eliminate false alerts from many sources.
But the Escort Passport 8500 X50 is long past its prime. It's an old, outdated model. While it was once one of the most solid, high performance detectors in its time, it was certainly not built to handle the advanced radar based technologies used on vehicles today. Interestingly, the author did not specify the make or model of the radar detector he used during his trip, which seems somewhat telling, and a little unfair. If this was indeed the detector he used, no wonder he received so many false alerts!
As for price, after adjusting for inflation, the cost of the average radar detector today is roughly the same as a comparable model in the same tier almost a decade ago. Yet these devices now have newer technologies with more features, functionality and performance than their older counterparts. For example, The Escort Passport 8500 X50 was priced at $299. The Escort X80 has many of the same original features, adds advanced filtering and false signal rejection capabilities, plus compatibility with the Escort Live™ app, and is the same price. In other words, today's detectors are smarter and more powerful at about the same price point. This translates to higher performance and greater value.
But what about the Waze app? Is it the end of the radar detector as we know it?
Ah yes, mobile apps. They've also come a long way, and there is certainly a lot to be said for them. We first wrote about such apps in 2012, when we tested one called- wait for it- Radar Detector. We tested it thoroughly and published our results in the aptly titled Do radar detector apps for smartphones work? To summarize the article, it didn't.
Since then, of course, apps have become much smarter. Apps such as Waze utilize the power of social community based reporting and the Internet to monitor and report on everything from traffic incidents to road hazards and, obviously, speed enforcement activities in real time, more or less. There are many advantages to using such apps, and many drivers now opt to use them.
However, these apps come with hazards of their own. Some of them are well documented in the local, national and even international press. We won't go into detail here, but an online search will find numerous cases of miscalculations and mishaps due to the over reliance solely on the app.
In spite of the hazards, mobile apps are still powerful and potentially effective countermeasures against traffic enforcement radar. Considering this, do they make radar detectors useless and obsolete? Absolutely not. On the contrary, mobile apps can enhance the capabilities of radar detectors, and the detectors, in turn, can enhance the capabilities of these apps.
Manufacturers of radar detectors know this, which is why many detectors have either an app or updateable database option available for direct or indirect access on the web. For instance, Escort offers Escort Live!™, and Cobra has iRadar. These aren't merely stand-alone apps, although they sometimes can be used as one. They are designed to work in tandem with the detectors they support. These mobile apps, when combined with a traditional, physical radar detector, provide a networked, super smart detection system for a more complete, high tech solution to the challenges of filtering out the new smart vehicle technologies while navigating traffic enforcement on the modern road.
Given the facts, all the facts, are radar detectors useless in 2018? Of course not. In fact, based on the facts provided, and the fact that the article didn't mention what radar detector the author used, the available facts only seem to lead to one logical conclusion.
Mr. DeMuro needs to buy a new radar detector.