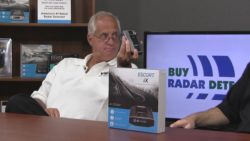 For many years, the Escort 9500ix was the innovative, high performance radar detector to beat. Then Escort retired this venerable classic and replaced it with the Escort iX, an updated model in a sleek, modern shell. Is it better than its predecessor, or just the same thing in another package?
In this video, Danny Feemster from Buy Radar Detectors asks Bob Rosania aka The Veil Guy and the creator of Veil G5 Stealth Coating for his thoughts on the iX and finds out if it is worth the price.
The Escort iX is available from Buy Radar Detectors.