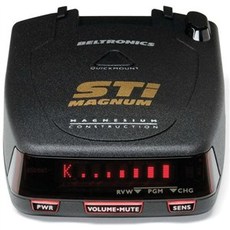 If you liked the original Beltronics STi Driver, you'll love this. Beltronics recently released a new, updated version of their beloved, top-of-the-line classic and dubbed it The STi Magnum!
The new STi Magnum offers a full set of features to deliver great performance. A dual low noise amplifier (LNA) microwave receiver provides the longest warning possible on all police radar bands. The Magnum's Multiple Threat Display alerts you to multiple radar signals their relative signal strength. AutoScan eliminates the need to manually shift between city and highway modes. The STi Magnum also features Traffic Sensor Rejection (TSR) software to prevent false alerts.
The STi Magnum can also integrate with the Cincinnati Microwave ZR4 Laser Defense System for added performance. In fact, the Beltronics STi Magnum offers a whopping 60% performance improvement over its predecessor, according to Beltronics.
But the features don't stop there. Like the STi Driver, the STi Magnum's greatest asset is its complete undetectability. Its magnesium alloy shell prevents signal "leak", preventing detection by radar detector detectors such as the VG2, Spectre, or Stalcar MK 3. Police using such devices will not pick up the signal trace of the radar detector inside your vehicle. This makes the STi Magnum truly undetectable!
If you are a serious driver searching for a high performance, feature rich, undetectable radar detector, look no further than the Beltronics STi Magnum.