Beltronics recently revamped their Professional Series, retiring old radar detectors and introducing four new ones - the Pro 100, Pro 200, Pro 300 and Pro 500. The Beltronics Pro 100 is the base model in this series and is comparable to its predecessor, the Vector 940. In fact, it has the exact same FCC ID as the 940, which means, for all intents and purposes, it is one.
As with the 940, the Beltronics Pro 100 features two city modes (standard and "No X"), to adjust the tolerance for false signals. It also has "POP" mode radar detection. Like the 940, it features an alpha-numeric display and voice alerts. Of course, it detects all the relevant radar signals and the types of laser typically in use today.
Okay, so if the new radar detector is essentially the same as the older model, why is it considered newer or better? Of course, the Vector Series was discontinued, which automatically labels the 940 "obsolete". But is it? Not really. However, it does look old compared to the slightly sleeker, sharper style of the Pro 100, which can be a rather powerful influence on those shopping for a new radar detector. After all, why buy an older looking model when you can buy a new one?
Looks aside, the Pro 100 does have a few tweaks to ennhance performance. First, there is improved range. Beltronics claims the Pro 100 has "six times the range of others in its class". What that means is somewhat ambiguous, since some radar detector aficionados consider Beltronics radar detectors to be in a class all by themselves.
Second, according to Beltronics, the Pro 100 is factory optimized for the typical domestic US driver. And the Vector 940 wasn't? Since most of us don't work in a radar detector factory, we really can't say if such a statement is true or not, so we'll give this one to Beltronics.
Third, what about that new look, anyway? It's nice. Beltronics took the Vector 940 and gave it a sleek shell with a darker color and a durable, rubberized texture that makes it easy to look at and even easier to grip. That alone is a considerable improvement.
Finally, consider the source. It's Beltronics. Sure, it doesn't have all the bells and whistles of its top-of-the-line cousin, the Pro 500, but at the low end the Pro 100 rivals higher-end models produced by other radar detector manufacturers. The ultra-bright LED display with multiple brightness levels including dark mode, over 60 voice alerts, auto and manual muting, VG-2 undetectability, auto memory retention, and general ease-of-use make even the lowest-end Pro 100 a prime choice for drivers in any class. In all, whether it's a Vector 940 or a Pro 100, it's still a Beltronics.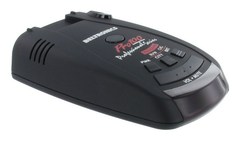 The Pro 100 does have a few minor enhancements, but there is still one clear advantage the Vector 940 has over its replacement: The price. The Vector is no longer manufactured, and as it's availability in the retail market has dwindled, so has the cost. What does this mean for consumers? A great deal. Literally. The Beltronics Pro 100 is a good radar detector at a good price, but the Vector, while still available, is almost the same thing at a real bargain.
If you're looking for a solid radar detector with great features at an equally great value, the Pro 100 is a good choice. If you're on a budget and need the performance but not the looks, The Vector 940 may be an option. Either way, they are both Beltronics, so which ever way you go, you can't go wrong.
Here is a comparison chart of all four current models in the Beltronics Professional Series.