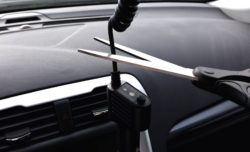 The age of mobility brought about the concept of cord cutting, and manufacturers of radar detectors were early adopters. For a time, there was a healthy selection of cordless detectors, and it was not uncommon to find them mounted to the windshields and dashboards of many vehicles. Today, however, the number of cordless radar detectors has dwindled significantly. In fact, at the time of this article, there is only one cordless model from a major brand currently available, the Escort Solo S4.
Does this mean cordless radar detectors are relics of the mobility age? Not necessarily. What it does mean is that the priorities of the average modern driver have possibly shifted, and their requirements may be different than they were at the beginning. When it comes to cordless radar detectors, they do have their pros and cons.
The Pros and Cons of Cordless Radar Detectors
Features vs. Portability
Pro: Cordless detectors are extremely portable, easy to carry around and can be quickly moved or removed as needed. For instance, it is often advised to remove valuables from your vehicle to deter theft, and a radar detector is an attractive enticement to thieves. A corded detector needs to be disconnected from power before it can be removed. With a cordless detector, simply grab it and go. Some driver even operate their cordless detector from a shirt pocket! You can't do that with a corded detector.
Con: Cordless detectors tend to have fewer features than corded models, or some features may be scaled back. This is often done for power considerations, because cordless detectors operate on batteries. The more features a detector has, the more power it may consume to activate and manage them. This can affect battery life.
Power Requirements
Pro: Cordless detectors have lower power requirement, and thus consume less power than corded detectors.
Con: Lower power consumption means the detector has a lower range of detection. In some circumstances, range may only be one factor to consider, in others, especially on the highway, it can be the most critical to avoid a threat.
Operability
Pro: Cordless detectors do not need power from a vehicle and are not dependent on a vehicle to operate. This can be a considerable advantage when power options are limited or a corded option is simply not feasible.
Con: Battery life limits operating time on longer trips. When the batteries are drained, the detector stops working, and if it happens while on the road, the driver must pull over and replace the batteries or face the risk of threats while the detector is out of operation.
Power Save Features
Pro: Cordless radar detectors usually have built-in power save and auto shutoff features to conserve battery life and extend operation.
Con: The reliance on battery power requires frequent battery replacement, resulting in down time to replace batteries and higher costs to purchase new batteries.
Accessibility
Pro: Cordless detectors can serve as secondary units or backup detectors. Some drivers have more than one detector on the dash or windshield, but don't want too many wires in the way. A cordless detector can serve as an effective secondary unit without adding to the clutter. Also if the primary detector goes down, simply stick a cordless detector up there and turn it on, without having to stop and wire it up. It can definitely help in a pinch.
Con: Cordless detectors generally have lower performance than corded detectors due to lower range and built-in power save options. This can also reduce their effectiveness as a replacement for a primary detector.
Convenience
Pro: Cordless detectors are a convenient option for temporary use in a second vehicle or rental car. If you switch vehicle often or are renting one for a day or two, a cordless detector can be setup quickly and easily without intrusion.
Con: Few cordless models are available on the market. At this time, the only cordless radar detector on the market is the Escort Solo S4. This severely limits the choice of a cordless option.
Versatility
Pro: Cordless radar detectors can easily be mounted or used on motorcycles. Without the need of wiring coupled with simple mounting requirments, the cordless detector is a natural choice for use on motorcycles.
Con: Except for the limitations already listed above, when it comes to using cordless radar detectors for motorcycles, is there a reason not to have one?
Do you need a cordless model, or is it better to stick with the standard corded, portable, windshield mounted, detector? To make the decision easier, This handy chart lists the pros and cons of cordless radar detectors.
Cordless Radar Detectors
Pros
Cons
Portable - easy to switch from one vehicle to another
Fewer features than a vehicle powered portable
Low power requirements
Lower power consumption means lower range
power save options
requires frequent battery replacement
Great as a secondary detector or backup
Lower performance due to lower range and power save options
Great for temporary use in a second vehicle or rental car
few cordless models available
Not dependent on a vehicle to operate
battery life limits operating time on longer trips
Can easily be mounted or used on motorcycles
Based on the this chart alone, one would think that the pros outnumber the cons. But, do they? The truth is, it depends on what you need in a radar detector, and how you plan to use it. If performance is imperative and portability is not important, it's probably best to go with a corded model. You'll get reliable power, greater range, and higher performance overall.
However, if you need ultra portability, ride a motorcycle, need a backup unit or you just don't like wires hanging down your dash, then a cordless radar detector may be just the thing. Either way, it's your choice.
For more information on cordless radar detectors, watch our Escort Solo S4 Video Review with the Veil Guy!